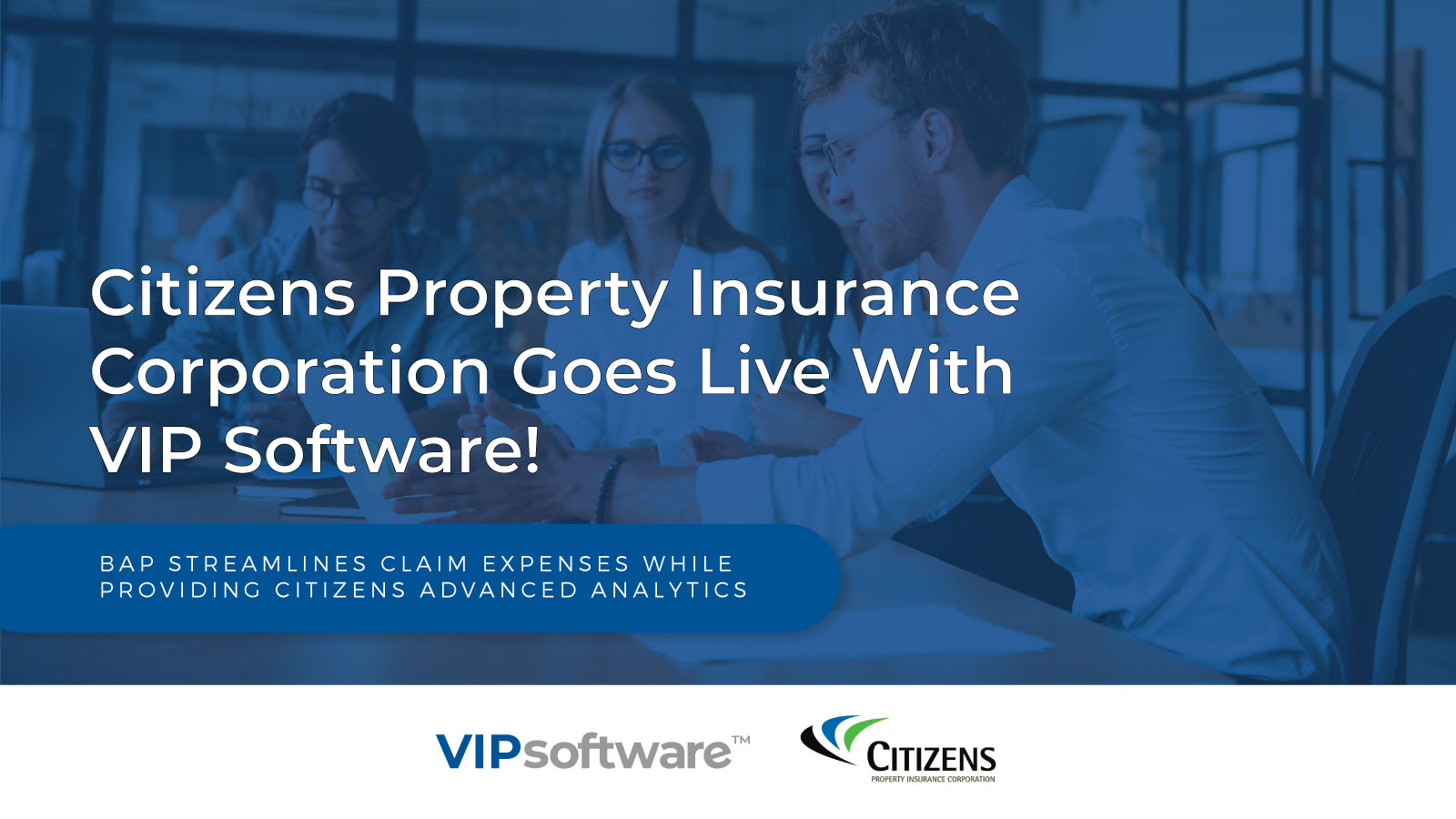 BAP streamlines claim expenses while providing Citizens with advanced analytics.
Many insurance companies are still playing catch up on modern technology and are finding that they must digitize to stay ahead of the curve. According to a CSFI & PWC Insurance Survey in 2021, outdated insurance technology within the industry is a major concern that needs to be addressed carefully. One of the ways this can be done is by embracing insurance technology solutions.
VIP Software is paving the way toward advanced digitization of the insurance industry with innovative technologies. Through our various property and casualty insurance software solutions, insurance carriers can adapt to the fast-changing landscape of the industry and scale their businesses effectively and profitably.
Insurance companies can feel confident they are in good hands with VIP Software, as these reliable and fast software solutions are backed by excellent service and a commitment to their customers' success.
VIP Software's vendor-agnostic solutions enable customers to take advantage of holistic data from across their organization to significantly impact P&L, such as accurate expense reconciliation, expense allocation, loss forecasting and reserve management. VIP Software provides consistent vendor invoicing, advanced analytics, straight-through-processing & automated SLA management.
BAP
BAP is VIP Software's vendor and expense management platform that leads the industry through standardizing data. This platform allows carriers to manage claims expenses and streamline their expense management through data science and analytical insights.
We are pleased to announce Citizens Property Insurance Corporation is now active in leveraging VIP Software's vendor and expense management platform, BAP, for vendor billing.
Citizens Property Insurance Corporation
Citizens plays a crucial role in Florida's property insurance marketplace by providing property insurance protection to people who are entitled to obtain coverage through the private market, but are unable to do so.
Citizens was created in August 2002 by the Florida Legislature. The insurance corporation was created as a not-for-profit, tax-exempt government entity and has become one of Florida's leading insurers of Florida homes and businesses. Additionally, Citizens strives to ensure that their customers receive service that is comparable to private-market standards, making them stand out from the competition.
Citizens operates according to statutory requirements established by the Florida Legislature and is governed by a Board of Governors. The board administers a Plan of Operation approved by the Florida Financial Services Commission, an oversight panel made up of the Governor, Chief Financial Officer, Attorney General and Commissioner of Agriculture.
Citizens leverages BAP software
BAP is VIP Software's flagship expense and vendor management platform for insurance carriers. This cutting-edge platform has proven to be an effective insurance software that allows companies to streamline processes, mitigate losses and increase efficiency.
Citizens is now benefiting from VIP Software's BAP platform to streamline their claims expenses and control their costs through advanced analytics, so Citizens can remain focused on providing a cost-effective and high quality service to their policyholders.
The BAP platform's adoption among other carriers and vendors was an important consideration for Citizens. This was addressed as VIP Software's claims expense management platform is engineered to seamlessly integrate into Citizens' XactAnalysis estimating platform, accelerating the implementation process and ensuring an accurate and efficient user experience.
Why Join VIP Software
Leveraging VIP Software's insurance software platform empowers providers to perform a cut above the rest and be leaders in an industry that is quickly shifting in a new digital age.
When disasters strike, insurance carriers and their partners are there to serve. As a country prone to natural disasters, these are what make up the bulk of insurance claims in the US. Every state is vulnerable to hazards like earthquakes, landslides, droughts, wildfires, floods, hurricanes, tsunamis, tornadoes and volcanoes.
These catastrophic events can tear down years of development and desecrate natural resources in the blink of an eye. They affect many people, and it's during these times insurance companies are needed the most.
This is when having a claims expense management software that connects and manages vendors efficiently and seamlessly makes all the difference in getting people the essential services they need.
VIP Software aims to continue to innovate in the insurance industry as an agile digital solutions provider offering an ecosystem of insurance software solutions that enable insurance carriers to enhance performance and operations.
--
To learn more about how your company can leverage our digital products to streamline, automate, and scale, contact us at info@vipsoftware.com.